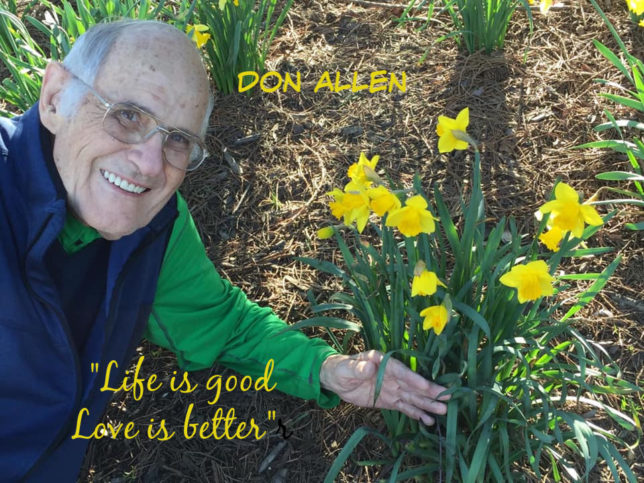 I had seen Don around town and heard him singing in the choir on Sundays in Church of the Valley, where Chuck and I and Don and Leota were members. It was hard to miss a man of his stature, but what really caught my attention was the joy on his face as he sang his heart out to the Lord, as beautifully as the birds, which he loved and knew by name. His passion and appreciation for music were undeniable.
My first encounter with Don, and where I really got to know him was in the Rotary Club of Apple Valley. We were inducted the same day and soon became good friends. Our time together in Rotary was fun and memorable and during one of the fining sessions, Don suddenly stood up, and in his booming voice we know so well, he pointed at me and, from across the room, blurted out:
"You see that baby girl over there, well she's going to help me become a smaller, perfect specimen of mankind. I'm going to take her diet stuff and lose 75 pounds of fat! AND I'm going to keep on shaving my head until we've done it!"
Notice the 'WE' part! I was 100% blindsided and dobbed in. It was then I decided he was incorrigible! My credibility on the line, I became a tough coach and made him keep a food diary and weigh in every week, that's when he told everyone that being friends with me was like having another wife. He succeeded in losing 100lbs, and as many of his friends will remember he did grow his hair back!
Chuck and I, and Don and Leota enjoyed a 30-year friendship. We did life together. We rejoiced in the mountaintop moments, we encouraged each other in our respective businesses, and we shed tears over the darts and arrows of life. We were family to them and, they to us. Don was like a big brother to me, a confidante and always a shining light. With Don steering at the helm, the Allen home embraced and loved all who crossed their threshold, both with Leota at his side and then later with his second wife, our dear Vicki.
Don loomed larger than life and he lived his life purposefully, utilizing his God-given talents in service to others. He always knew how to uplift and spread joy, laughter, and confidence to those around him. If you wanted a cheerleader, he was your guy! His unique way of presenting himself and expressing his views was sometimes shocking, often humorous but always genuine.
He was generous to a fault and took great delight in giving. He donated his time, talents, worldly goods and his love to others, expecting nothing in return. When you were with Don you could be "yourself," and you knew without any doubt, you were loved and accepted, no matter what.
Don loved to crack jokes while holding court with friends, but he had another side, a quieter side. He was a philosopher of life and you could often catch him sitting thoughtfully, intently listening to others, observing the scene, sizing up the situation.  Fun and laughter accompanied Don everywhere he went.
He epitomized the scripture from Thessalonians 5:16-18 "Be joyful always, pray at all times, be thankful in all circumstances. This is what God wants from you in your life in union with Christ Jesus."
When Alzheimer's hit our dear friend Leota, he cared for her lovingly, sacrificially and later dedicated many years helping others understand the disease. He was a huge comfort and support to me during the 8 years my mother fought dementia. As I walked that path with her, he walked with me and then Don and Vickie attended her Celebration of Life in England. As we sang "How great thou art", I heard his joyful voice rise above all others. It was calming and reassuring. I was so grateful they were there.
Don lived life positively, always looking for the good when life dealt a bad hand. He was an overcomer. He knew how to turn a disadvantage into an advantage, to use obstacles as stepping stones forward.  He saw humor amid sadness. He taught me to view life through a different lens, to be less intense, saying "Baby girl, don't get your knickers in a twist!" which is a British idiom. And immediately, I would laugh and lighten up.
He showed us how to live life full out, to conquer challenges, and to believe that all would be well, but he also showed us how to accept death with grace and fortitude. Amazingly, he embraced his transition to heaven, as an exciting new experience.
Thank you, Don Allen of Apple Valley. You are still incorrigible but in a good way!  Just know that to Chuck and me and all our family, you are loved and unforgettable. And to quote from a sermon by Henry Scott-Holland …..
"All is well. Nothing is hurt; nothing is lost. One brief moment and all will be as it was before. How we shall laugh at the trouble of parting when we meet again!"
In some of Don's favorite words "Everything's going to be alright!"
Photography credits to Tami Allen
Never forgotten – Always loved.