And the spirit shall return unto God who gave it.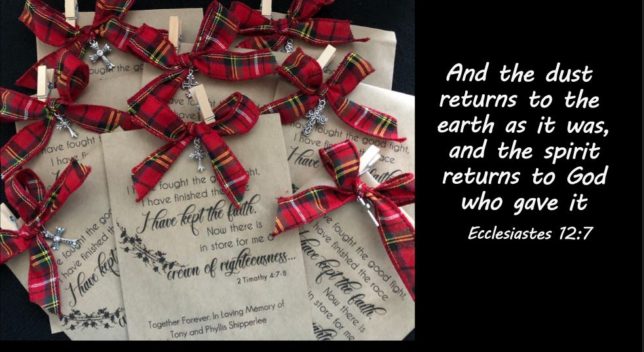 The three times I've experienced death up close and personal, there has been no shadow of doubt in my mind that the spirit, and very essence of life, departs in an instant, leaving its human body, an astoundingly empty and lifeless vessel. As a Christian who believes in a loving, living God, I experienced both sadness and joy at that moment … simultaneously. Extreme sorrow from the loss that was overshadowed by an amazing sense of joy … joy that the spirit of my loved one returned to God.
My parents, who had almost 72 years of marriage, had requested that once they were gone, their ashes be scattered together. They didn't designate where. They simply specified 'together'. Since they met in Scotland during WWII, I thought it would be fitting to spread their ashes at the place they met and where my dad proposed marriage to my mother in Broughty Ferry, near Dundee Scotland.  
Their homecoming to Broughty Ferry was the very reason 8 family members joined Chuck and me for a memorable holiday in Scotland … for some a first visit to my country of birth, for others a nostalgic return, and for my cousin and her husband, who reside in Scotland, it was to honor my parents and enjoy a few days of family togetherness.
So here we all stood on the furthermost pier by Broughty Castle.

Photograph credits to David McIntosh
Mum and Dad had arrived from England, hand delivered by courier, the day before the gathering. This was to be a joyful laying to rest of their remains.  And indeed it was. 
Tuesday 9th October, was a cold, wet day and there, out on the jetty by the castle, the waters of the Firth of Tay, where my Dad often landed his seaplane, lapped all around us. The place was completely deserted. We were there alone. Perfect.
The privacy was greatly appreciated and, with the wind chilling us to the bone, we formed a circle around the urns containing our loved ones. Each holding two red roses tied in togetherness, and with the love of my life officiating, we honored my devoted parents with endearing passages, read by their three grandchildren and followed by words of remembrance from those who chose to share. 
With a beautiful acapella rendition of Amazing Grace still ringing in our ears, and a quick check on the wind direction, Chuck and I opened the urns and sprinkled my parent's ashes into the swirling waters of the Firth of Tay, while roses flew in the breeze, landing with the ashes and floating randomly and beautifully in the current.

A final resting place, their dust returned to the earth, their souls long since abiding with God. Final closure feels wonderful. A few moments of reflection and we left in search of warmth and our celebration dinner. 
One fleeting last glance back over my shoulder as I wondered where the roses would end up, revealed two lone seagulls together, bobbing on the waters just beyond the roses, the only remaining onlookers.
Oh how God delights my heart and fills my soul.
"Then shall the dust return to the earth as it was: and the spirit shall return unto God who gave it."   Ecclesiastes 12:7
Heartfelt thanks to granddaughter Holly Tripp who captured the video portions of scattering ashes and tossing roses.