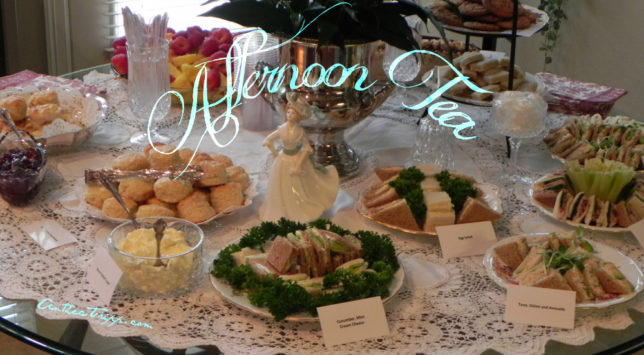 Countdown! 
Good Friday's coming and we're off to the land of afternoon tea. I'm excited now! A couple more days and we'll be in England … for yet another visit to spend valuable time with my parents. Some R and R time and a complete change of scenery, plus a slower pace of life and a break in routine in different but-oh-so-familiar surroundings.
Then there will be afternoon tea – a tradition I particularly love and something we don't really take time to partake of here at home – too busy doing other things.
Yes … it'll probably be raining but who cares about the weather, we don't go there to see the sun. We go to visit family and to renew our souls and gain perspective on what's really important in this life. As our eyes feast on the beautiful green rolling pastures – the prolific wild daffodils, primroses (and maybe some bluebells might even dare to bloom early just to delight us) we will feel our spirits sour and our souls will sing in a whole new way.
Peace and tranquility is the order of the day. It's a welcome respite from the hustle and bustle of daily routine.
Then there's the 4:00 o'clock afternoon tea ritual. The real deal – not just a cup of tea in a mug that resembles a toilet bowl in girth, but dainty porcelain china tea cups with pretty colorful patterns … oh so English … like crooking your little finger English … and small silver teaspoons carefully displayed on a lace tablecloth, with their matching tea plates.
I'm a collector of antique trio's, which consist of a fine china teacup and saucer and the matching tea plate. One doesn't even have to have a full set of fine china … I personally love the originality of serving a different trio to each guest and that way they know exactly which of the china settings is theirs! Sorry I digressed … let me continue …
Did you know that tea tastes differently depending on how you brew it and serve it? I'm partial to loose tea leaves – my favorite being Twinings English Breakfast Tea. So you boil the water and pour just enough into the teapot to pre-heat it. Empty the teapot and place a teaspoon of tea leaves into the pot … one for each person and one for the pot!
Next, pour the boiling (not just boiled, but b.o.i.l.i.n.g) water into the teapot, quickly put the lid on and cover the pot of tea with a "tea cozy" to keep the tea piping hot while it is infusing to maturity. No we're not done yet …
Meanwhile, pour a little whole milk into each teacup (for those who want to drink it the traditional way) add appropriate sugar for those with a sweet tooth and when the tea has infused … 3-4 minutes of steeping …you're ready to pour a delicious cup of afternoon tea to accompany any special treats you're serving with the tea. Pour through a tea strainer for a tea-leaf-free cuppa, or leave the tea leaves in if you want your fortune told!
This is all well and good, but for me the tea alone wouldn't quite cut it. I will be left wanting … and we can't have that! You see, part of the charm of English afternoon tea is the accompanying assorted crust-free finger sandwiches (dainty please – not ones the size of door steps) and sweets (not candy but small dessert-like foods) such as a slice of Victoria sponge cake … a light fluffy sponge layer cake with jam and double cream in the middle, or fruit cake, or chocolate roll, or home-made biscuits (cookies) and /or my all-time favorite which is scones and jam with clotted cream traditionally known as a "cream tea'.
Clotted cream is to-die-for and believe me if you eat enough of it you most certainly will … before your time. But it's worth the risk as long as you don't partake every day. So here's the million-dollar question … what is the proper way to eat a scone and jam with clotted cream? Do you put the jam on first? Or do you put the clotted cream on and top it off with the jam?
Here's my philosophy … eat it any way you want … but eat it you must!  Enjoy!
For me afternoon tea brings to mind many happy memories of lazy childhood days where the family gathered together, sometimes just the three of us and sometimes with extended family or friends, to enjoy a "spot" of tea and all the trimmings.
My mother was the queen of afternoon tea in her day and I was so proud that it always tasted so much better than anyone else's. But there is so much more to savor than tea and taste. It's the leisurely shared experience, where no one is looking at the time, except to make sure they don't miss the four o'clock chimes that announce commencement of the tea.
English afternoon tea – it's about teatime chatter and the chinking of china teacups with people you love. It's about sharing fond moments you'll cherish forever … and if you're lucky you might even find someone to read the tea leaves in your cup – and tell your fortune.
Seventy two hours and counting – can't wait. Mum and Dad! It's time to put the kettle on for tea … Anthea's coming home.